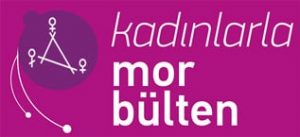 The Purple Newsletter is a quarterly publication by WWHR-New Ways that has run regularly since February 2006 with the aim of strengthening the communication and maintaining ties of solidarity between trainers, participants and the WWHR team part of the Human Rights Training Program for Women (HREP) solidarity network, organized on a country-wide scale. Along with pieces where women involved in HREP share their experiences, lives and journey to empowerment, the Purple Newsletter also features news from the field in order to contribute to building bridges between the national, international and the local. Special care is taken in terms of the language used so as to ensure that it is as accessible as possible for women of all literacy levels and practices.
Once again with many thanks to all women participating in HREP, our trainers, and other contributors who have graced the Purple Newsletter with their valuable contributions through the years, as well as our team, advisors and members who have undertaken its technical and content production…
Gülşah Seral, a long-time member of the WWHR team and HREP advisor, describes the inception of the idea of the Purple Newsletter in the following words:
The Seeds of the Purple Newsletter
October 15, 1998… Any old autumn day. But for me it was anything but that, as it was the day the idea of the Purple Newsletter was conceived. After the Training of Trainers (ToT) in collaboration with the General Directorate of Social Services and Child Protection (SHÇEK) in 1998, I had contacted all the trainers one by one and found out where they were at, and then set out to write the very first "letter". I shared news on who was holding group training sessions with whom, where, with how many people, and when, trying to support those preparing to start a new group. I informed you about the "Feminism Institute in Muslim Societies" that we hosted with the participation of representatives of about 20 international women's organizations. With this letter, I also shared with you our documentary titled "Time to Say No!" and mentioned that the "We Have Rights!" booklet (which was then a single booklet and not a four-part series!) was due to arrive from the printing press anytime now.
It would be far-fetched to say I had a publication like the Purple Newsletter in mind when I wrote that first letter, but I did start considering it after the subsequent ToTs in 1999 and 2000, as the program went from being the Human Rights and Legal Literacy Program for Women to HREP. Even though I left WWHR in 2001, not only did our team expand and grow stronger, but we kept increasing in numbers with ToTs in 2002 and 2005. Together, our efforts to familiarize the notion of women's human rights in the national and international arena as well as the local continued. Our family grew. And something like the Purple Newsletter became a necessity. The team back then put together the first issue with an extraordinary effort; bringing new HREP trainers in 2008 and then 2010 into the fold with a full-fledged publication rather than my letters – which I consider to be precursors or 'seeds'. A publication where all trainers and participants are able to express themselves in their own words, as well as receive news on women from Turkey and the world… The Purple Newsletter, budding into being six years ago, is today celebrating its 15th issue with all of you. We have made it to where we currently are in terms of women's human rights with all of our combined efforts. Every issue of the Purple Newsletter is a reminder to us that there are not only hundreds but thousands of women all over Turkey who share similar experiences and have gained a common perspective thanks to HREP trainings. It is like an embodiment, a living testament of our common life experiences. And at once a representation of the power we have unearthed by coming together…
Gülşah Seral, Purple Newsletter #15